MOSQUITO REPELLENT
EMIFRESH MR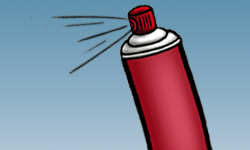 DESCRIPTION :
An alcohol free, water based, eco – friendly mosquito repellent with pleasant fragrance. A highly stable liquid, stands for 1-3 hrs.
FEATURES :
Reduces air-borne bacteria which causes mosquitoes to breed
A special formulation which refreshes with pleasant fragrance
USES :
Widely used in washrooms corridors, guestrooms, offices, homes, hospitals, hotel, lawns, etc.
DIRECTIONS :
EMIFRESH MR is used neat as a spray either using a spray or a pressurized air dispenser. Spray in larger quantities initial few weeks. Then dosages could be reduced as per the requirements.
PROPERTIES :
Appearance : Clear Blue Liquid
Viscosity : > 100 CPS @ 20°C
pH : 6.5 – 7.0
Shelf Life : 12 months in contamination free condition
PRECAUTION :
Avoid spraying into eyes, mouth and open body parts. If accidental contact happens, splash with ample water for 2 minutes.